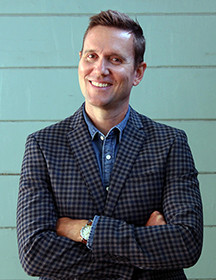 Award-winning video producer Forest Erickson joins Wrigley Media Group following Creative Director role with Hulu. A native of Los Angeles and new resident of Kentucky, Erickson (pictured) brings more than two decades of video production and creative experience to the role of SVP, Production & Creative Services for Wrigley Media. The Lexington, KY.-based Wrigley Media Group is a modern media company that conceives, creates, produces and distributes all forms of media content.
"I'm so happy to have made the move from the Golden to the beautiful Bluegrass State, and for the opportunity to do more of the work I love with the dynamic Wrigley Media Group team," says Erickson. At Wrigley Media, Erickson will oversee all production projects and be the chief creative resource to help clients develop and define the look, feel and messaging needed to achieve their goals.
While serving as Creative Director of Video at Hulu, Erickson oversaw video production across all business verticals, including branded content and integrated marketing, working closely with key talent and brands including Microsoft, Geico and Lexus. He helped build the in-house creative team and, along the way, received numerous awards for his writing, producing and directing.
Prior to joining Hulu, Erickson produced non-scripted, short-form content for notable brands including Whole Foods and AOL. With a Master's in Film Production from the Univ. of Southern California, Erickson began his career in commercial production, working closely with a roster of top directors before transitioning to the agency side, as lead copywriter and producer for a range of national clients on hundreds of TV ads.
"With his skills and experience, Forest will help us keep pushing our clients' projects to new heights. We couldn't be happier that he's joining Team Wrigley," says Ross Babbit, Wrigley Media Group CCO.