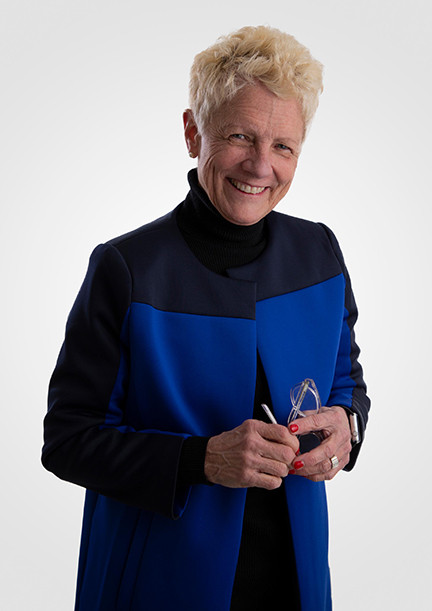 From Wrigley Media Group Owner Misdee Wrigley Miller, "It is with great sadness that we announce that Jayne Hancock, Chief Executive Officer of Wrigley Media Group, passed on Sept. 2 in her Lexington, Ky. home. The entire Wrigley Media Group family mourns this profound loss.
Jayne was a friend and trusted business leader. I always enjoyed our chats and the passion and drive she brought to everything she did. It inspired me, and I know it inspired many others as well.
Jayne was a day-to-day force in driving the vision and mission of Wrigley Media Group. She worked quickly, and constantly drove the team forward. She was also active and passionate about building the media industry in the state of Kentucky in a way that would impact the national media landscape.
Only living in Lexington for a few years, Jayne quickly made it her home. She loved the community and was part of it through service with UK College of Communication and Information, Women Leading Kentucky and as a Board Member of BrainBox Intelligent Marketing and Active Women's Health Initiative."
Under Jayne's leadership since 2016, notable projects and accomplishments during her tenure at Wrigley Media Group include:
• Executive producing The Stand-In starring Drew Barrymore, which was partially shot in Lexington
• Creating original content with networks including Bluprint, NBC Sports, Discovery ID & HGTV
• Attracting a group of passionate storytellers from NY, LA and DC to the Bluegrass
• Earning multiple awards including Tellys, Hermes, Omnis and ADDYs
With distinct passion and experience in sports, media and entertainment, Jayne was a multi-dimensional executive with more than 35 years of proven experience in all aspects of business and consumer marketing. Her impressive background includes senior executive positions with DIRECTV, 360 Fly Camera (VOXX International), FanVision and FLO TV (Qualcomm). An entrepreneur at heart, Jayne founded and was the President/CEO of digital marketing agency JHG, Inc., as well as sports publishing firm Spectator Sports Communications, Inc.
To name only a few milestones in Jayne's illustrious career in the media and sports industries:
• As Vice President of Consumer Marketing/Revenue Enhancement at DIRECTV, she led all business and creative, development and management aspects of the exclusive programming content for NFL SUNDAY TICKET and successfully met her annual upgrade target revenue of $5.0B.
• Under Jayne's leadership at DIRECTV, negotiated endorsement contract to hire Peyton Manning for his first endorsement post University of Tennessee. Mr. Manning remains under contract to this day with ATT DIRECTV.
• While serving as Qualcomm Vice President and CMO at Qualcomm's FLO TV, she managed a budget of $75 million and led a team of 20 marketing and business development professionals, seven direct reports and multiple agencies. While acting as Exec. Producer, Jayne led the creation of three 2010 Super Bowl spots in six short weeks of development. Additionally, negotiated contract with Mark Burnett Productions for FLO TV product inclusion and represented Qualcomm on an episode of "The Apprentice"
• Under her stewardship, FanVision doubled customer acquisitions and added agreements with professional sports organizations worldwide including NASCAR and 15 NFL teams.
• Early in her career, Jayne served as Associate Athletic Director at San Diego State University. At this post, she oversaw 18 Division I sports programs along with marketing, media, advertising and public relations for those programs.

A native of Phoenix, Ariz., Jayne was a former Division I student-athlete at the University of Arizona and earned a master's degree in Sports and Business Administration from the University of Southern California.
Jayne Hancock was 63.